6 reasons to get incontinence underwear for elderly people
Incontinence underwear can be a valuable solution for elderly people experiencing bladder or bowel control issues. In Home Healing, LLC provides incontinence underwear in and around Boca Raton, Boynton Beach, West Palm Beach, Pompano Beach, Coral Springs.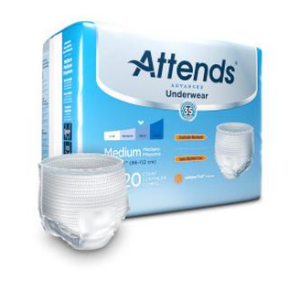 Here are six reasons why someone might consider using incontinence underwear for elderly individuals:
Dignity and Confidence: Incontinence can be embarrassing and lead to a loss of self-esteem. Incontinence underwear allows elderly individuals to maintain their dignity and confidence, as it provides discreet protection against leaks and accidents.

Comfort and Convenience: Incontinence underwear is designed for comfort, with soft materials that feel like regular underwear. They are also easy to put on and take off, making it convenient for both the wearer and caregivers.

Leakage Protection: Incontinence underwear is specifically engineered to absorb and contain urine and fecal matter, preventing leaks and odors. This protection ensures that elderly individuals can go about their daily activities without fear of accidents.

Skin Health: Prolonged exposure to moisture from incontinence can lead to skin irritation and even infections. Incontinence underwear typically includes moisture-wicking technology and a moisture-absorbent core, helping to maintain better skin health for the elderly.

Cost-Effective: While incontinence products may seem costly, they can actually be more cost-effective in the long run. Using incontinence underwear can reduce the need for disposable pads and liners, ultimately saving money over time.

Independence: For many elderly individuals, maintaining their independence is crucial. Incontinence underwear allows them to remain active and engaged in daily life without relying heavily on assistance from caregivers.
It's important to note that choosing the right type and size of incontinence underwear is essential to ensure maximum comfort and effectiveness. Additionally, consulting with a healthcare professional can help determine the best approach to managing incontinence for each individual's unique needs. Please call us without any hesitation.