The best place for people to be for recovery and general mood improvement is at home in familiar surroundings in Boca Raton, Boynton Beach, Coral Springs, Pompano Beach, West Palm Beach, and the surrounding areas. Often this involves being in bed, and sometimes it is prudent to provide additional protection if making it to the bathroom is a concern. At In Home Healing we offer several bed pads for incontinence, and these items are important to maintain the physical health of patients. With our mission to help home health caregivers, usually family members, these bed pads for incontinence are great options for the caregivers as well as the patients. Contact us today to order your bed pads.
Benefits of Bed Pads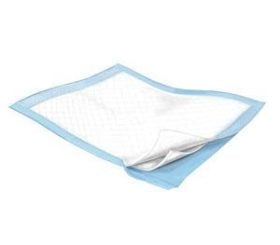 Perhaps the most important benefit in using bed pads for incontinence is for the health of the patient. Bed pads improve the hygiene of the patient by keeping urine or other bodily fluids from being in direct contact with the patient's skin. This obviously helps to prevent infection and reduce bacteria, but it also provides for increased comfort when sleeping and prevent skin irritation.
Bed pads for incontinence are also important in protecting the mattress as well as the bedding. When a mattress gets soiled, especially when it is deeply soiled, the mattress can harbor bacteria and other things that lead to the need to replace the mattress. The small cost of bed pads helps to extend the useful life of the mattress and bedding.
Bed pads will also help to reduce the need for doing laundry, which takes both time and money to do. This provides for improved mood for both caregiver and patient, and it also helps to reduce anxiety over accidents during sleep and more.
Bed Pads Can Be Used Whenever Needed
The nice thing is that bed pads for incontinence can be used whenever the need arises. Not only that but these bed pads are universal in nature, meaning that they can be used with any bed and for anyone. These can be useful for children to help them deal with bed-wetting issues, elderly who have occasional incontinence issues during the night, or other situations.
We want to help individuals and families have a better experience with a medical supply organization that will provide quality products for them in Boca Raton, Boynton Beach, Coral Springs, Pompano Beach, West Palm Beach, and the surrounding areas. Contact us today at In Home Healing to order your bed pads and other medical supplies.